CATEGORY
AirVisual Data: The Most Polluted Jakarta City in the World This Morning
Posted on 26 July 2019
Air pollution in Jakarta is getting worse. Based on AirVisual data at 08.00 pm, Jakarta occupies the first position of the world's most polluted city by news.detik.com. 
Viewed from the AirVisual website, Friday (26/7/2019), Air Quality Index (AQI) Jakarta is at 184. That means air quality in Jakarta is not healthy.
Data is obtained from Airvisual air monitoring equipment located at the United States Embassy in Central Jakarta, Pegadungan, Kemayoran, Pejanten Barat, Rawamangun, and Mangga Dua. AirVisual appealed to the people of Jakarta wearing a mask and avoiding outdoor activities.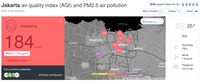 AQI is an index that describes the severity of air quality in an area. AQI is calculated based on six major pollutant types, such as PM 2.5, PM 10, carbon monoxide, sulfuric acid, nitrogen dioxide, and ground surface ozone. Content of PM 2.5 this morning, based on AirVisual data is 119.8 μg/m³.
The range of values ​​from AQI is 0 to 500. The higher the value indicates the higher the level of air pollution in the region.
Jakarta's pollution levels this morning are above Hanoi in Vietnam, Krasnoyarsk in Russia, or Shanghai in China.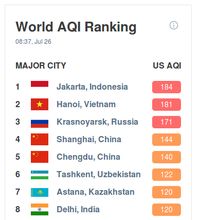 Jakarta Provincial Government has already established a number of policies to reduce air pollution. The way it takes is from emission test liability for every vehicle and to use sansevieria plants.
---
Share this article:
Need assistance to improve your air quality?
(+62) 878 8000 9070
info@catija.com