CATEGORY
Jakarta Emergency Air Pollution
Posted on 20 December 2018
Jakarta air quality for several days is in an unhealthy status. Based on Kompas.com's observation, from the Air Now and AQICN sites, Jakarta's air condition for the past two days falls into the Unhealthy or Unhealthy category.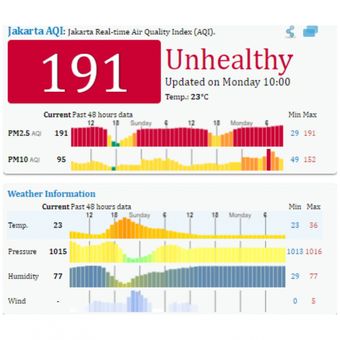 Monday (30/07/2018) according to the same site, Index Air Quality (Air Quality Index) Jakarta touch the figure of 191. This site measures the Air Quality Index in several US Embassy.
Where as according to AQICN, the Air Quality Index touches the number 160 at 15.00 WIB.
Even the Jakarta Air Quality Index had touched the number 195 at 04.00 WIB.
This figure is worse than Beijing and New Delhi, which is known as the city with the highest pollution levels in the world. When compared to major cities in Southeast Asia, Jakarta's air quality is worse than Ho Chi Minh City Hanoi, Bangkok, Kuala Lumpur and Singapore.
Several cities in Indonesia such as Palembang, Batam and Jambi also entered into the monitoring of AQCN. Compared to Jakarta, the city's Air Quality Index is still within safe limits.
Jakarta air condition
According to the monitoring of air quality that do Greenpeace, during January to June 2017, the air quality in the Greater Jakarta indicated enters unhealthy levels (unhealthy) for humans.
This condition can have serious health effects for sensitive groups, such as children, pregnant women and the elderly.
Index according to WHO data, the average annual PM 2.5 content in Jakarta is 45. This figure is still far from the WHO standard, which is 25 µg / m3 (micrograms per cubic meter).
Particulates (PM2.5) are dust particles measuring 2.5 microns or micrometers. When compared to thick human hair, then this particle has a thickness of 1/30.
These particles are very dangerous because they are produced by power plants, transportation, and industrial activities. According to this report, air quality in the Southeast Asia, Africa and Eastern Mediterranean regions is very poor.
More than half of the population in major cities of the world live in areas that have an air quality index 2.5 times greater than the WHO recommended, and only 16 percent of the total urban population lives in areas with good air conditions. Of several cities monitored, the region belongs to a country with greater income.
---
Share this article:
Need assistance to improve your air quality?
(+62) 878 8000 9070
info@catija.com